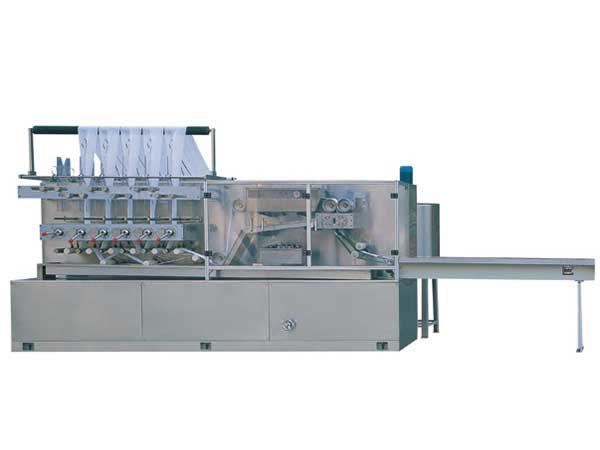 Model No.: PX-SJZ-ZD80
Product Name: 80 Pieces Automatic Wet Wipes Folding Machine
Brief Description
PX-SJZ-ZD80 is an automatic wet wipe folding machine that combines the latest paper folding technologies with the sleek look of stainless steel. Wipe contact parts are made of stainless steel as well to maintain product hygiene. A fullly sealed wipe solution circulating system ensures consistent moisture content among wet wipes to be folded.
Features
1. An unwind stand can be added to the wet wipe folding line depending on the actual need.
2. Inline paper roll saw can cut 100mm-thick jumbo rolls.
3. This high speed folding machine accepts a wide variety of materials, including air-laid paper and non-woven fabrics.
4. After a jumbo roll is slit into smaller widths, the folding machine folds the material into a z-fold.
5. Automatic moisture content control is possible thanks to the use of a metering pump and a hermetically sealed recycling system where wipe solutions re-circulates without being contaminated by the surrounding air.
6. Slit length is adjustable, somewhere between 150mm and 300mm.
7. The rotary cutter cuts 10 wet wipes in one cycle. After that, a stacker is used to pile up the wipes.
Main Technical Parameters
1. Folded products size: L×W =(150~300)×(80~120) mm
2. production speed (standard type: 10 pcs per stack): 200~300 stacks.
3. Machine power: 4.5kw (380V, 50Hz)
4. Overall dimensions: L×W×H =10m×3.0m×1.8m
5. Machine weight: 2.2T