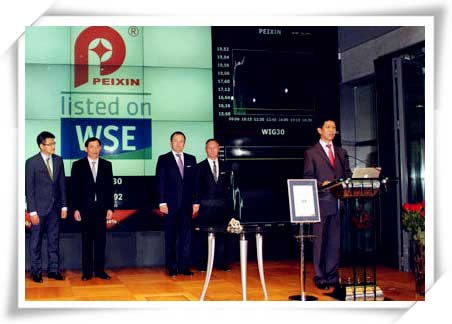 1985
Mr. Xie Senior started a company called Peixin Machinery Making Industrial Co., Ltd. ( affiliated to Peixin International Group), specializing in a range of paper products machines, i.e., baby diaper machine, panty liner line, adult diaper equipment, sanitary napkin machinery, pet training pad equipment, and so much more.
The newly founded company was a sino-foreign joint venture, located in Houkeng Industry Area, Fuqio, Quanzhou, a historical coastal city with convenient transports. The factory covers a ground area of 20,000 square meters, with fixed assets worth 150 million RMB. From the very outset, the company has had all the elements of a successful business, including talents, technologies, resources, and prime business location. With its business still going strong, Mr. Xie opened a branch office in Shanghai, which is dedicated to the sales of drilling tools and paper converting machinery. Since then, our brand has gained increased popularity and wider acceptance. Our reputation also grows.
2006
As our business outgrew our facility, we moved to a new site in Shuangyang Overseas Chinese Economic-Develop Zone in Luojiang, Quanzhou, Fujian, China. The new factory spans 60,000 square meters, with fixed assets up to 200 millions worth. With 600 employees on staff, including 200 senior engineers and technicians, Peixin became an industry-recognized leader in paper products machinery industry, known for its proud history of serving customers worldwide.
Not only do we invest in product quality and technology advancement, but we also emphasize after-sales service as a key part of satisfying customers. Our product design is CE approved, featuring UL and CE compliant electrical elements and safety devices. We've also obtained various other honors, including Inspection Exemption Certificate, Fujian Famous Brand, Contract-Abiding and Trustworthy Enterprise, and Technologically Innovative Enterprise. Our quality management system is ISO9001:2000 approved. Our loyal customer base spans more than 80 countries around the world, with clients from the USA, Canada, Japan, Russia, Turkey, Korea, the UK, Poland, India, Egypt, etc.
2014
Peixin became the first Chinese manufacturer to be listed in Poland. Customers could buy our stocks on Warsaw Stock Exchange. Our more than 3 decades of experience in the diaper machine, toilet paper machine, and sanitary pad machine business translated into an unmatched ability to deliver guaranteed quality. So far, more than 700 daily-use paper products manufacturers have chosen PEIXIN machines and achieve great success.