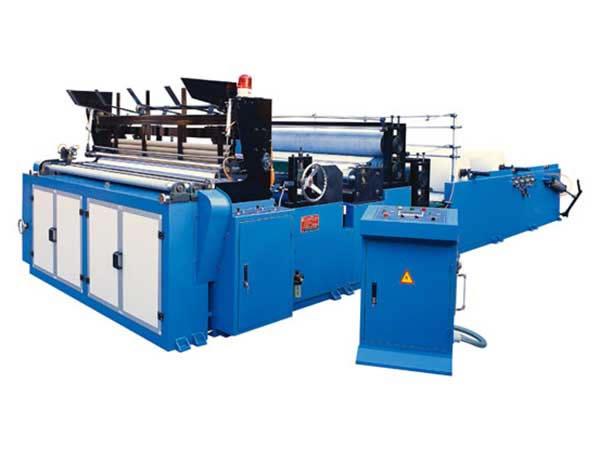 Model No.: PX-WSZ-DK 1575B
(PX-WSZ-DK 1092/1760/2200/2500/2800B)
Product Name: Fully-automatic Toilet Paper Edge-trimming Sealing, Embossing Rewinding and Perforating Machine
Brief Description
1. The fully automatic toilet paper edge trimming, sealing, embossing, rewinding, and perforating machine comes with the most advanced PLC system variable speed control, electronic brake and operator interface. Various other features are fitted, which have been much praised by customers for unmatched performance.
2. Allows automatic paper tube replacement. Edge trimming, glue spraying, and edge sealing operations are done automatically and simultaneously. Advanced tail sealing technique is in tune with international trend. The result is complete paper rolls coming off the line automatically.
3. Live monitoring system checks for web breakage and torn edges. Adjustable web tension. Pneumatic feed.
4. This edge-trimming, embossing, rewinding and perforating machine can pair nicely with a color printing and rewinding machine or laminating unit to produce paper towels for kitchen use.
Main Technical Parameters
Model No.: 1092/1575/1760/2200/2500/2800
Raw Material Width (mm): 1350/1750/1900/2150/2450/2750
Finished Products Diameter: Φ 60~150 (Adjustable web tension)
Perforation Pitch (mm): 100-150mm(Other sizes are available.)
Production Speed: 160~180 m/min
Embossing Style: single-sided, double-sided, steel to steel embossing
Embossing Roller: Felt roller, paper roller, rubber roller
Jumbo roll stand: 1-3 plies (Can be customized.)
Overall Dimensions (m)(L×W×H): 7×(2.3-4)×1.8
Machine Weight: 4000~8000kg (approximately)
Telecom System: Available upon request.